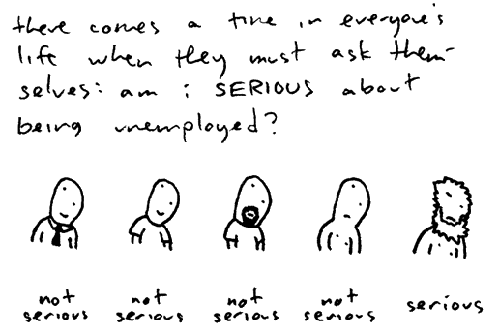 Toothpaste For Dinner
It's funny that when you are working you probably think about how nice it would be to sleep in, stay at home and do whatever you want all day (unless you are one of those people that have a job you enjoy, in which case I hate you). Of course, when this becomes the reality it isn't quite as fun as you imagined it. Sure, the first week or two may actually be quite enjoyable. There you are, getting out of bed late in the morning (or early in the afternoon), maybe breezing around the neighbourhood taking advantage of the places that are quiet when most of the populous are out toiling in the fields, or catching up on all the TV and time playing video games you'd missed out on.
By the third week this starts to get a little tiresome. You've now adjusted your sleep pattern to match that of the local nocturnal wildlife, successfully isolating yourself from meaningful human contact, and have started to run out of things to do apart from stare at yourself in the mirror until you wonder if the face looking back from it actually belongs to you. But don't fret, there are activities you can amuse yourself with, some of which I will attempt to cover now.

1. Looking For A Job:
Well fuck me while I point out the obvious, but this is probably something you should be doing (part of the reason I'm listing this is to try and convince myself to do it at the same time). I have generally tended to employ a strategy of
"if I think about getting a job for long enough, maybe someone will offer me one
."
You'd be right in guessing this isn't particularly successful. No, actually getting more work involves making sure your CV is as good as it can be (without bending the truth too much), constantly checking local jobs listings and generally putting yourself out there. It's a fucking nightmare basically, which is why you'll need other outlets to prevent you from going insane.
2. Awaiting the arrival of post:
This won't be so great if your postman actually comes in the morning (when you will be in bed), and even less satisfying if you live alone and don't really get much of it. Fortunately I live with other people and my postie comes in the afternoon most of the time (you can make a note of the times, if you are the type of person who enjoys that sort of thing). You can never be quite sure what's going to come through the letterbox and screening out all the junk mail makes you feel (slightly more) useful (than the cat, who also consumes resources, but doesn't have the opposable thumbs necessary for letter sorting).
3. Masturbation
I won't pretend to know what you girlies get up to, but if you are a man with a lot of spare time in a house on his own, you will spend a reasonable amount of time getting re-aquainted with madame palm and her five lovely daughters. Of course this will also come naturally and therefore doesn't really need to be listed.
Tip: If you share a house with others, cover up suspicious excess of tissue use by feigning a cold.
4. Throwing Things Away
We all have a cupboard somewhere that's packed full of a load of old shit we probably never use any more / wanted in the first place. Now you have nothing better to do, you can sort through this small mountain and throw most of it out. Anything valuable you may want to eBay, as long as you don't get sucked in and start spending more money you don't have. If you have a lot of crap, you may realise your house is bigger than you thought it was when you started.
5. Spotify
I'll have to apologise in advance to anyone who can't use this yet (most notably any of you Americans out there).
Spotify
is a neat little music streaming service that lets you listen to just about any track you can think to search for (OK, that's an exaggeration, and there are some notable exceptions). The quality is good and the ads on the free version aren't too intrusive. You should easily be able to while away a day or two listing to stuff you've been too lazy / ashamed to download from your favourite bittorrent tracker.
6. DIY
Been meaning to put up some shelves? Mend that leaky tap? Re-tile the bathroom? Well now you have all the time in the world to do any jobs around the house you previously haven't got around to / have been avoiding. If you aren't really the practical type then it is probably better to stick to the below....
7. Cleaning
You're at home for most of the day, so you may as well take some time vacuum, de-scale the kettle, clean all of the windows, mop the kitchen floor and polish any silverware you may own (
yeah right!
). Cleaning is also a necessity when you spend most of your time lying in various positions around the house, shedding dead skin and dropping crumbs from all the boredom eating.
8. Avoiding Feeding The Cat
Pets that would usually have enjoyed having the house to themselves during the day will now make it their life goal to spend every waking moment trying to extract food from you. This may take on the behaviour of apparent affection, knocking their heads against doors until you are forced to let them in out of annoyance and then proceeding to systematically knock objects from every surface in the room. Maybe it'll take the form of good old traditional whingeing. The goal is always the same. When you explain to them that they get fed at 6pm everyday and that they should really have learned this by now, for some reason it doesn't get through. That reason is probably that you've spent too much time indoors and have started speaking to animals.
9. Growing A Beard
Pretty easy if you are a man as it just involves not shaving. Take this opportunity of no co-worker contact by exploring the possibilities of facial hair. Considerably more difficult if you are a woman and probably not recommended.
Of course, there are also things that should be
avoided at all costs
when you are bored and unemployed. These include:
Daytime television:
It was shit when you were a student, and it hasn't improved since then.
Talking to your neighbours:
It may seem like a good idea, but they really aren't as interesting as you might imagine. You don't live in a soap opera.
Talking to yourself:
Save that for your blog.
Have fun and remember to change your habits when you do get another job.